PEER 150 San Francisco Private Reception
PEER 150 San Francisco Private Reception
Tuesday, April 17, 2018
The PEER 150
The San Francisco members of The PEER 150 are honored to host an evening of networking at a private venue near the Moscone Center. Attendance is open to CISO and Cyber Security executives approved by our PEER 150 team.
We look forward to seeing you on Tuesday, April 17th at 6:00pm.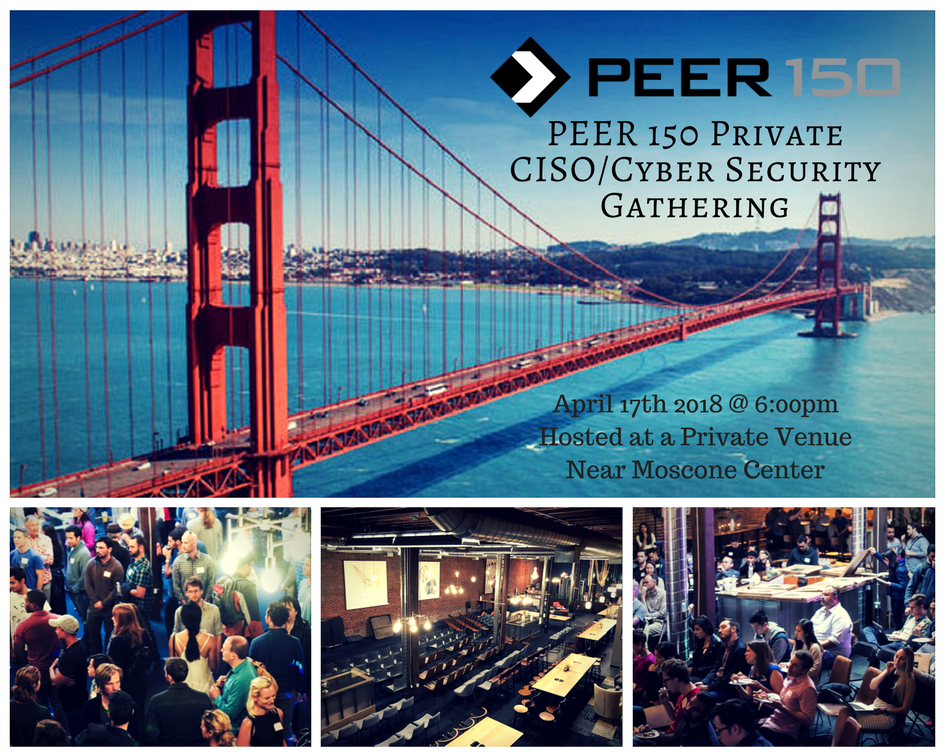 Tuesday, April 17th
6:00 pm

– Registration, Cocktail Reception, Networking & Live Music
7:00 pm

– PEER 150 Welcome Comments
7:10 pm

– Fireside Discussion: Protecting Your Brand From Social Media Hacking
8:00 pm

– Continued Cocktail Reception, Networking & Live Music
10:00 pm

– Adjourn
For more information about sponsorship, please contact BradCoen@thepeer150.com.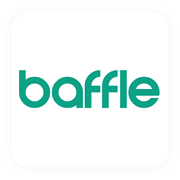 Baffle's solution prevents data breaches by securing the end-to-end data access model for applications and databases. Using this patent-pending method, the technology protects against some of the most recent high profile attacks and vulnerabilities. Baffle is the only company that can enable encryption of data in use, in memory, in the search index, and at-rest using AES encryption without impacting or requiring changes to the application. Baffle is also the first company to enable secure data processing on a commercial application (e.g. Tableau) and database to guarantee data protection.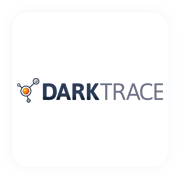 Darktrace is the world's leading machine learning company for cyber security, having developed AI algorithms that mimic the human immune system to defend enterprise networks of all types and sizes. Created by mathematicians from the University of Cambridge, Darktrace's Enterprise Immune System is the first non-consumer application of machine learning to work at scale, across all network types, from physical, virtualized, and cloud, through to IOT and industrial control systems. Installed as a self-configuring cyber defense platform, Darktrace continuously learns what is 'normal' for all devices and users, updating its understanding as the environment changes.
By applying its unique, unsupervised machine learning, Darktrace has identified 30,000 previously unknown threats in over 2,000 networks, including zero-days, insider threats and subtle, stealthy attacks. The company has experienced 600% year-on-year revenue growth. With 370 employees in 23 offices and dual headquarters in San Francisco and Cambridge UK, Darktrace was named 'Best Security Company of the Year 2016,' 'Bloomberg Innovator,' and 'GSN Homeland Security' award winner. The company's valuation is $.5 billion and its investors include KKR, Softbank, Summit, Invoke Capital, and Samsung.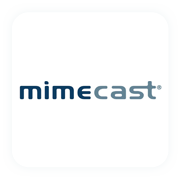 Mimecast (NASDAQ: MIME) makes business email and data safer for 28,200 customers and their millions of employees worldwide. Founded in 2003, the company's next-generation cloud-based security, archiving and continuity services protect email and deliver comprehensive email risk management.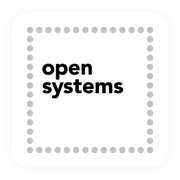 Open Systems' cloud delivered Secure SD-WAN solution provides its customers the full benefits of SD-WAN while reducing cyber risk and simplifying regulatory compliance through their fully integrated managed security services platform.
Founded over 25 years ago in Zurich, Switzerland, Open Systems' unique Secure SD-WAN solution was created in response to years of customer feedback and requests. Today, Open Systems' Secure SD-WAN is powering digital transformation at some of the World's leading enterprises. In over 180 countries, Open Systems is reducing operating costs, decreasing downtime, increasing application performance, enabling cloud adoption and providing protection against today's most advanced cyber threats while offering full visibility into all network and security services through their proprietary customer portal.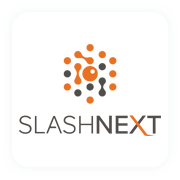 SlashNext has reinvented Internet threat prevention systems with a new approach to protecting users and systems every time they connect to the Internet. The SlashNext Internet Access Protection System is a cloud powered solution that leverages cognitive computing, a process that mimics how the human brain senses, reasons and responds to stimulus, to process and detect complex and interlinked Internet access attacks including social engineering and phishing, malware, exploits and callbacks.
SlashNext CEO Atif Mushtaq founded the company after serving nine years as a senior scientist for FireEye, where he was a leading architect of the company's core malware detection system based on signatures and sandbox based technologies. Atif has been at the forefront in the fight against cybercrimes and has worked with law enforcement and other global organizations to take down some of the world's biggest cybercrime networks. In 2012, his efforts took down one of the largest email spam networks operating out of Russia, causing the worldwide spam level to drop by 50% in a single day.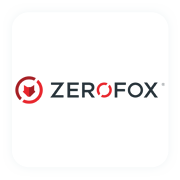 ZeroFOX, the innovator of social media & digital security, protects modern organizations from dynamic security, brand and physical risks across social, mobile, web and collaboration platforms. Using targeted data collection and artificial intelligence-based analysis, ZeroFOX protects modern organizations from targeted phishing attacks, credential compromise, data exfiltration, brand hijacking, executive and location threats and more. Recognized as a Leader in Digital Risk Monitoring by Forrester, the patented ZeroFOX SaaS platform processes and protects millions of posts, messages and accounts daily across the social and digital landscape, spanning LinkedIn, Facebook, Slack, Twitter, HipChat, Instagram, Reddit, Pastebin, Tumblr, YouTube, VK, mobile app stores, the deep & dark web, domains and more.